English

German

Spanish

French

Italian

Portuguese

Japanese

Korean

Arabic
Russian
Office Staples
Industrial Staples
Packing (Carton closing) Staples
Brad Nails and Pins
Others
High production ability and qualified products with full export experience helps BLACK MUSHROOM to gain good reputation and more customers. More information, welcome to
contact us...
74 series staples
Products >> Staples >> Industrial Staples >> 74 series staples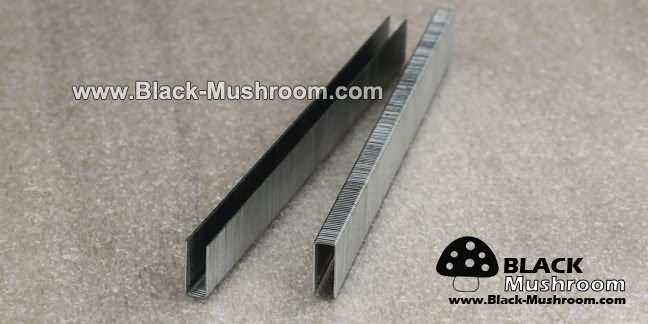 74 Series Staples
Descriptions of 74 Series Staples
1. This type of brads are usually applied with an air stapler.
2. It is made form: multiple zinc-plated steel wires or stainless steel wires.
zinc-plated steel staples can make different color:
galvanized color, copper color, golden color, bronzed color, blue color and others, upon request.

galvanized / copper / golden / bronzed
3. It comes with a tensile strength of 100-110kg/mm2, 120-130kg/mm2 or 130-140kg/mm2 (upon request)
4. Also known as a fastener, our 74 staple is maily used for Book cases, drawers, cabinets, planters, flower boxes and others.
5. These staples are manufactured in accordance with European SGS standards. It is absolutely pollution-free.
Specification of 74 series staples
inch
mm
Gauge: 22
3/16"
4
Crown: 4.50mm
1/4"
6
Width: 0.75mm
5/16"
8
Thickness: 0.60mm
3/8"
10
Length: 4mm - 16mm
1/2"
12
Material: Zinc Plating Wire
stainless steel wires
9/16"
14
5/8"
16
Tensile Strength: 100-110 kg/mm2
120-130kg/mm2
130-140kg/mm2
74 series industrial staples are similar to:
Industrial Staples
13 series
14 staples
53 staples
71 staples
72 staples
74 staples
75 staples
T50 staples
10F staples
10J staples
Page:

1

2

3

Next >>
Contact Us
Mr. Oliver
Mobile phone: +86 133 7575 6688
Skype: oliver.xu66